En esta parte, analizamos extractos de guiones de películas para entender el uso del inglés cotidiano auténtico. Lee los fragmentos e intenta comprenderlos. Luego, lee la explicación del vocabulario. Finalmente, vuelve a leer el texto.
Recomendaciones para aprender inglés
con películas
Elige escenas cortas, retrocede la película y vuelve a mirarlas. Para eso, marca el comienzo de la escena pulsando el botón "A-B" de tu reproductor de DVD. Cuando termine la escena, pulsa el mismo botón y se volverá a repetir la escena automáticamente.
Desactiva los subtítulos en español. Si aún no logras entender el diálogo, activa la opción "CC" (Closed Caption) en tu televisor para ver los subtítulos en inglés.

Intenta mirar películas que conozcas y hayas visto. Dado que ya sabes lo que sucede en la trama, podrás concentrarte en el vocabulario y las expresiones usadas en las conversaciones.

Repite las frases que escuchas y si no entiendes algo, utiliza un diccionario.

Presta atención a la pronunciación y la entonación. De esta forma, irás entrenando el oído para identificar las palabras, lo cual ciertamente te ayudará a mejorar tu comprensión del inglés.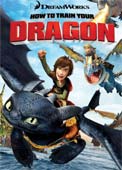 HICCUP: My
village
. In a word,
sturdy
. And it's been here for seven generations, but every single building is new. We have fishing, hunting and a
charming
view of the
sunsets
. The only problems are the
pests
.
You see
, most places have
mice
or mosquitos. We have... dragons.
Most people would
leave
. Not us. We're Vikings. We have
stubbornness
issues
. My name's Hiccup. Great name, I know. But it's not
the worst
. Parents believe a
hideous
name will
frighten off
gnomes
and
trolls
. Like our charming Viking
demeanor
wouldn't do that.
| | |
| --- | --- |
| village | aldea, pueblo |
| sturdy | fuerte, robusto |
| charming | encantador, fascinante |
| sunset | puesta de sol, ocaso. El opuesto es sunrise (salida del sol, alba). |
| pest | plaga, peste |
| you see | Expresión coloquial que equivale al español "como verás", "ya lo ves". |
| mice | Forma plural de mouse (ratón). Otros ejemplos de plural irregular son: foot (pie), feet (pies); person (persona), people (personas); sheep (oveja), sheep (ovejas). Para aprender más, ver Plural. |
| to leave | irse |
| stubornness | testarudez, terquedad. El adjetivo stubborn significa testarudo, terco. |
| issue | En este caso, significa conflicto. |
| the worst | el peor. Para aprender a hacer comparaciones, ver Comparatives and superlatives. |
| hideous | horrible, espantoso |
| to frighten off somebody | espantar a alguien |
| gnome | gnomo, duende (criatura mitológica) |
| troll | trol, duende (criatura mitológica) |
| demeanor | conducta, apariencia. En inglés británico, se escribe demeanour. |
| | |
| --- | --- |
| what he's like | cómo es él |
| to crawl | gatear. Para aprender diferentes formas de caminar, ver Ways of walking. |
| attention span | período de concentración/atención |
| sparrow | gorrión. Para aprender nombres de aves, ver Birds. |
| to steal something | robar algo |
| What's with that? | ¿Qué significa eso? ¿Por qué sucede eso? |
| here we go | aquí vamos. Es una expresión coloquial para mostrar fastidio por lo que la otra persona dice. |
| to bang something | golpear algo |
| against | contra |
| to question somebody | cuestionar a alguien |
| headache | dolor de cabeza |
| to split | partirse, quebrarse. Las formas del pasado son split, split. |
| in two | en dos |
| to teach something to somebody | enseñar algo a alguien. Las formas del pasado son taught, taught. |
| to crush something | moler, pulverizar, aplastar algo |
| to level something | nivelar, alisar, aplanar algo |
| forest | bosque |
| to tame something | amansar, domesticar algo |
| to become something | volverse algo, convertirse en algo |
| | |
| --- | --- |
| You're back | Has vuelto. To be back significa volver. |
| to look for something/somebody | buscar algo/a alguien |
| to keep a secret | mantener un secreto |
| to hide something from somebody | esconder algo de alguien |
| on this island | en esta isla. Notar el uso de la preposición on. |
| to hear about something | escuchar algo. Notar el uso de la preposición about. |
| to talk about something | hablar de algo. Notar el uso de la preposición about. Para aprender diferentes formas de hablar, ver Ways of speaking. |
| I'm so sorry | lo siento mucho |
| to tell somebody something | decir a alguien algo |
| upset | molesto |
| to hope for something | desear algo |
| better | mejor. Para aprender a hacer comparaciones, ver Comparatives and superlatives. |
| till | hasta que |
| to spill something | derramar algo |
| guts | tripas |
| for the first time | por primera vez |
| to mount something | montar algo |
| spear | lanza |
| What a feeling! | ¡Qué sensación! |